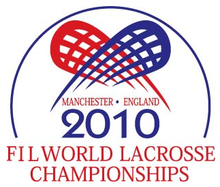 ILF world lacrosse championships – Manchester, England (14-24.7.2010)
The first-ever participation in the World lacrosse championship experienced Slovakia led by head coach Ed Kostolansky again. Part of the team was prepare under the guidance of coaches in Slovakia, part of the players in the U.S. and Canada. Slovak national team was designed to compete their best in the championship against all participating countries. Historical championship in Manchester, England was eleventh, and the largest lacrosse tournament, attended by up to 30 countries around the world. Our boys were present symbolically in the orange group, together with high-tournament favorite Ireland, South Korea and Switzerland.
Slovaks finally finished at the beautiful 17 place, when they won five from their seven games and only through playing system, teams with worse balance finished infront of them. Although the seventeenth place is huge success for Slovak lacrosse.
We all believe that in the next 2014 World lacrosse championship in Colorado, Slovaks will not only participate, but also fight for a few places higher.
Groups draw
| Blue | Orange | Violet | Yellow | Red | Aqua | Silver |
| --- | --- | --- | --- | --- | --- | --- |
| Canada | Ireland | Iroquis | Finland | Italy | Scotlan | Netherlands |
| USA | South Korea | Spain | Denmark | Czech republic | Latvia | Wales |
| Australia | Slovakia | Hong Kong | Bermuda | Sweden | New Zealand | Argentina |
| Germany | Switzerland | Norway | Poland | Mexico | France | Austria |
| England | | | | | | |
| Japan | | | | | | |
Results – basic groups
Blue
Day
Country
Coutry
Final result
15.7.2010
England
Germany
12:3
16.7.2010
Canada
Japan
17:4
16.7.2010
USA
Australia
21:5
17.7.2010
Japan
Germany
15:9
17.7.2010
Australia
England
10:8 (OT)
17.7.2010
USA
Canada
9:10
18.7.2010
England
Japan
13:12 (OT)
18.7.2010
Germany
USA
4:22
18.7.2010
Canada
Australia
19:5
19.7.2010
Germany
Canada
4:23
19.7.2010
Australia
Japan
9:11
19.7.2010
USA
England
17:5
20.7.2010
Japan
USA
5:19
20.7.2010
Australia
Germany
22:4
20.7.2010
Canada
England
17:6
Orange
Day
Country
Coutry
Final result
16.7.2010
Ireland
South Korea
21:3
16.7.2010
Slovakia
Switzerland
10:4
17.7.2010
Slovakia
Ireland
4:23
17.7.2010
Switzerland
South Korea
10:6
18.7.2010
Switzerland
Ireland
3:16
18.7.2010
South Korea
Slovakia
6:7
Violet
Day
Country
Coutry
Final result
16.7.2010
Iroquis
Spain
0:1
16.7.2010
Hong Kong
Norway
10:8
17.7.2010
Hong Kong
Iroquis
1:0
17.7.2010
Norway
Spain
8:11
18.7.2010
Norway
Iroquis
1:0
18.7.2010
Spain
Hong Kong
16:14
Yellow
Day
Country
Coutry
Final result
16.7.2010
Finland
Denmark
14:2
16.7.2010
Bermuda
Poland
2:16
17.7.2010
Bermuda
Finland
5:11
17.7.2010
Poland
Denmark
15:5
18.7.2010
Poland
Finland
11:12 (OT)
18.7.2010
Denmark
Bermuda
8:11
Red
Day
Country
Coutry
Final result
16.7.2010
Italy
Czech republic
3:17
16.7.2010
Sweden
Mexico
20:2
17.7.2010
Sweden
Italy
16:3
17.7.2010
Mexico
Czech republic
1:21
18.7.2010
Mexico
Italy
3:12
18.7.2010
Czech republic
Sweden
9:6
Aqua
Day
Country
Coutry
Final result
16.7.2010
Scotland
Latvia
20:4
16.7.2010
New Zealand
France
18:3
17.7.2010
New Zealand
Scotland
8:18
17.7.2010
France
Latvia
6:16
18.7.2010
France
Scotland
2:19
18.7.2010
Latvia
New Zealand
5:11
Grey
Day
Country
Coutry
Final result
16.7.2010
Netherlands
Wales
9:10
16.7.2010
Argentina
Austria
5:16
17.7.2010
Argentina
Netherlands
3:29
17.7.2010
Austria
Wales
0:19
18.7.2010
Austria
Netherlands
5:17
18.7.2010
Wales
Argentina
20:3
Final standings
| | |
| --- | --- |
| 1. | USA |
| 2. | Canada |
| 3. | Australia |
| 4. | Japan |
| 5. | England |
| 6. | Germany |
| 7. | Scotland |
| 8. | Netherlands |
| 9. | Ireland |
| 10. | Sweden |
| 11. | Wales |
| 12. | Finland |
| 13. | Czech republic |
| 14. | Poland |
| 15. | New Zealand |
| 16. | Spain |
| 17. | Slovakia |
| 18. | Bermuda |
| 19. | Italy |
| 20. | Latvia |
| 21. | Austria |
| 22. | Hong Kong |
| 23. | Switzerland |
| 24. | Norway |
| 25. | South Korea |
| 26. | Denmark |
| 27. | France |
| 28. | Argentina |
| 29. | Mexico |
| 30. | Iroquis |
National team roster – 2010 World lacrosse championships, Manchester, UK
| Foto | Name | Surname | Position | Number | Club | GA | SV | SV% |
| --- | --- | --- | --- | --- | --- | --- | --- | --- |
| | Stanislav | Mráz | Goalie | 72 | Tricksters Lacrosse Team | 16 | 14 | 50% |
| | Greg | Havalchak | Goalie | 41 | Rutgers University | 67 | 45 | 65% |
| Foto | Name | Surname | Position | Number | Club | G | A | PT | P |
| --- | --- | --- | --- | --- | --- | --- | --- | --- | --- |
| | Pavol | Kopernický | Defense | 11 | Tricksters Lacrosse Team | 0 | 0 | 0 | 12 |
| | Pavol | Dubeň | Defense | 88 | Tricksters Lacrosse Team | 0 | 0 | 0 | 4 |
| | Miroslav | Šamo | Defense | 28 | Tricksters Lacrosse Team | 0 | 0 | 0 | 2 |
| | Adam | Hamšík | Defense/Midfield | 4 | Tricksters Lacrosse Team | 0 | 0 | 0 | 8 |
| | Boris | Stankovič | Defense/Midfield | 19 | Tricksters Lacrosse Team | 0 | 0 | 0 | 3 |
| | Jan | Flaška | Midfield | 66 | Bowdoin College | 3 | 2 | 5 | 2 |
| | David | Washo | Midfield | 16 | Penn State | 20 | 1 | 20 | 9 |
| | Martin | Kramár | Midfield | 23 | Tricksters Lacrosse Team | 10 | 5 | 15 | 11 |
| | Boris | Severský | Midfield | 13 | Tricksters Lacrosse Team | 0 | 1 | 1 | 3 |
| | Henrich | Syrový | Midfield | 17 | Tricksters Lacrosse Team | 0 | 0 | 0 | 0 |
| | Ivan | Ivančin | Midfield | 10 | Tricksters Lacrosse Team | 0 | 0 | 0 | 0 |
| | Jozef | Tomenga | Midfield | 15 | Tricksters Lacrosse Team | 1 | 0 | 1 | 3 |
| | Mark | Lichtner | Midfield | 22 | Tricksters Lacrosse Team | 2 | 2 | 4 | 0 |
| | Noah | Hoselton | Midfield | 27 | Knights Bantam | 2 | 1 | 3 | 4 |
| | Ivan | Černák | Midfield | 26 | Tricksters Lacrosse Team | 5 | 2 | 7 | 4 |
| | Jakub | Klimo | Midfield | 12 | Tricksters Lacrosse Team | 0 | 1 | 1 | 0 |
| | Juraj | Kováčik | Attack | 24 | Tricksters Lacrosse Team | 5 | 1 | 6 | 1 |
| | Tomas | Lichtner | Attack | 21 | Tricksters Lacrosse Team | 9 | 3 | 12 | 7 |
| | Stanislav | Purgát | Attack | 44 | Tricksters Lacrosse Team | 1 | 1 | 2 | 1 |
| | Bradley | Vrecko | Attack | 77 | Vancouver Burrards | 5 | 1 | 6 | 0 |
Staff