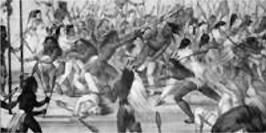 Lacrosse , is originally an old Indian game played by tribes from the east coast of America . For Indians lacrosse is not just a game , but also a certain philosophy of life . It was also the training of young warriors to fight and attributed it even healing effects.
Due to similarities with the old French lacrosse game and stick it French missionaries called " La crosse ." in 1850 introduced the first official rules of lacrosse and has Indian and neindiáske teams started the game spread to other continents . Even in the late 19th century lacrosse spread to England , Australia , New Zealand and especially in university towns across the U.S. east coast .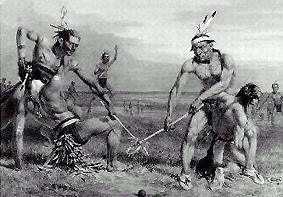 Founded in 1882 the first " Intercollegiate Association " bringing together leading universities , Harvard , Johns Hopkins University and Princeton . The original Iroquois version of the sport is today resembles the most . Iroquois play in 1990 World Championships as an independent nation .
Top international competitions dating back to the 19th century , when teams against each entering Canada and the Iroquois . The medal was fought between 1904 and 1908 Olympics. Canada's victory at the games in 1904 meant the first ever medal at the Olympic Games . Lacrosse was a prime sport in the Olympic Games from 1928 , 1932 , 1948.
30's of the 20th century, organizers combined the two most popular sports of Canada and created a box lacrosse ( lacrosse playing on the hockey field ) . In the mid – 30 years box lacrosse completely pushed – field lacrosse and became an official sport Canadian Lacrosse Association .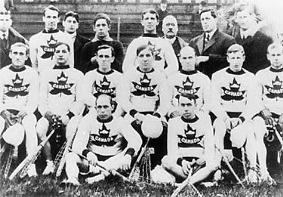 World Cup – field lacrosse for the first time ever in 1960 and except for a single victory of Canada dominated by the USA . The first box – lacrosse World Cup hosted by Canada in 1980 , where she won . The first box lacrosse – MS under the official heading of ILF ( International Lacrosse Federation ) took place in 2003 , Ontario, Canada . Seven -day Canada won the tournament , though the final beat Iroquois .
Lacrosse is an interesting sport from a different perspective . Played it had many well-known stars of the NHL . Among the most famous names include : Joe Nieuwendyk , Brendan Shanahan , Ted Nolan , Wayne Gretsky , Doug Gilmour , Cliff Ronning , Joe Sakic , Gary Roberts , Paul Coffey .
Lacrosse history in Slovakia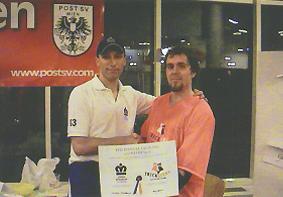 In 2003 was created the first lacrosse club in Slovakia , Bratislava called Tricksters . Its founder was Mark Lichtner . Lacrosse began in modest conditions with minimal equipment by throwing a lacrosse ball against the wall and gradually gaining experience together emerging DLC ( Danube Lacrosse Conference ) , whose founding teams have just Tricksters and Vienna Monarchs .
freshman in 2004 conquered the club last place without getting a single point with a score of 6:60 . Former rivals were clubs Passau ( Germany ) and Vienna Monarchs ( Austria ) . First boxlakrosový tournament organized club Tricksters 26 September 2004. 2005 was slightly more successful when the league expanded Tricksters finished fourth out of five clubs ( Passau , Vienna Monarchs , Ljubljana , Tricksters , Graz ) . Earlier this year it was a little better 44:51 . Good results were reflected in the league and in tournaments . Tricksters occupied 3rd place strongly occupied tournament in Vienna ( Austria open) . The breakthrough became Year 2006 when the club won in Bratislava DLC League and carved out from between six teams valuable trophy . Tricksters get together 22 points if not lost even one game and suffered only one draw in the opening game of the season with the Cherokees ( Vienna ) . In 2007 he became successful despite the fact that the DLC league did not play particularly due to the displeasure of other clubs . Tricksters Bratislava prevailed to open Austria , where among other winners beat the vintage 2006 Sundbyberg ( Sweden ) and his eternal rival of Passau . The year 2007 was and is important for the further advancement of lacrosse in Slovakia , which separated from the club Tricksters created another lacrosse club Bratislava ( Bratislava Bats ).
In 2010 was founded another lacrosse club in Prievidza called Hammers, later Headhunterz.
Next milestone was year 2014, when lacrosse club in Zvolen was found. There ara three active lacrosse clubs in Slovakia, and participate in Slovak lacrosse league.
First time ever Slovakia national team played in the first international lacrosse event in 2008 European lacrosse championships in Lahti, where finished 12th. From that Slovaks played at 2010 World lacrosse championships (Manchester), 17th. place, 2011 World indoor lacrosse championships (Prague), 8th. place, 2012 European lacrosse championships (Amsterdam), 12th place. Year 2014 was again a year of world lacrosse championships. Slovak national team competed in Denver with another 38 countries from all over the world.