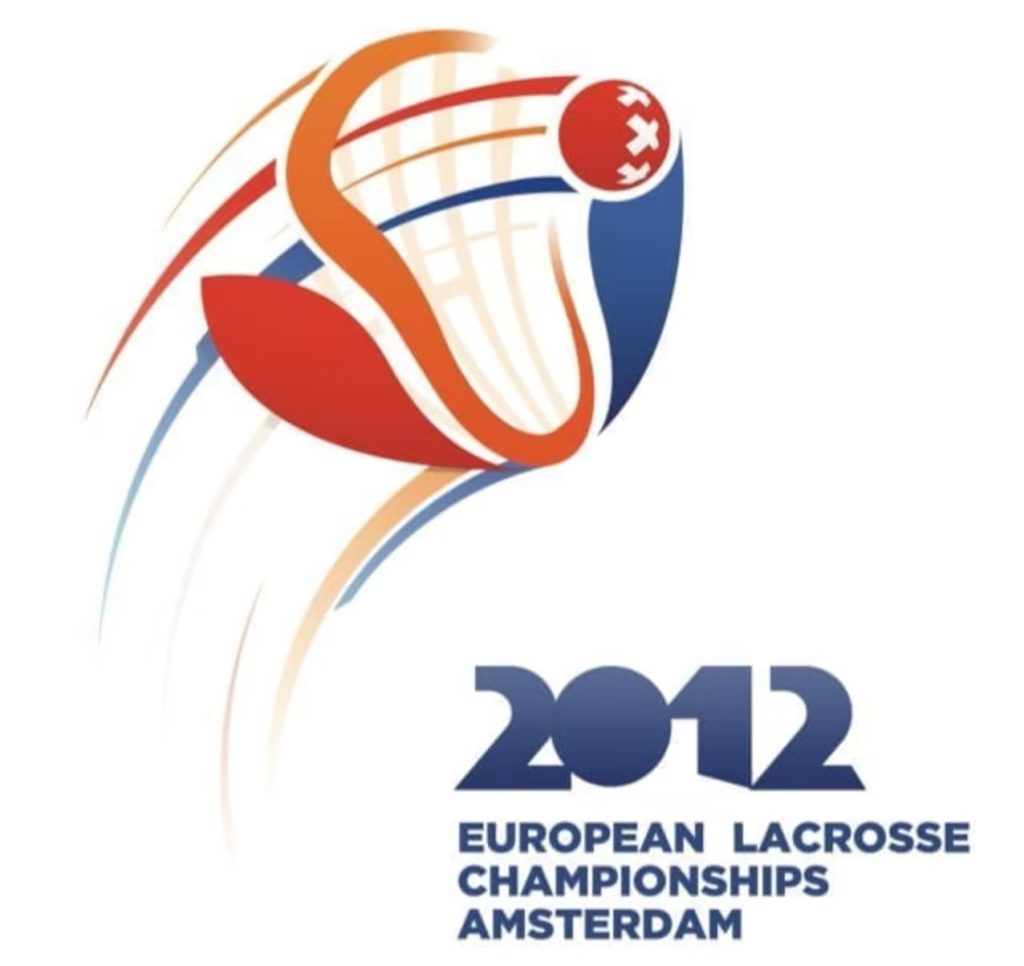 European Lacrosse championship – Amsterdam, Netherlands (20-30.6.2012)
The second participation of of Slovaks at the European Championship was held in 2012, again under the leadership of head coach Ed Kostolansky.
Slovaks in the green group met with the championship rookie Israel, Wales, Norway and France. In the group stage after two wins and two loses ranked third place and played for a chance to get into twelve teams in Europe. However, as another results showed Slovak colors could not exceed shadow from last tournament and finnished twelve place, same like four years ago.
Groups draw
| Blue | Violet | Green |
| --- | --- | --- |
| England | Scotland | Israel |
| Germany | Czech republic | Wales |
| Ireland | Switzerland | Slovakia |
| Sweden | Italy | Norway |
| Finland | Spain | France |
| Netherlands | Belgium | |
Results – basic groups
Blue
Day
Country
Country
Final result
20.6.2012
Netherlands
Germany
8:9
21.6.2012
Sweden
Finland
9:8
21.6.2012
England
Ireland
11:7
22.6.2012
Germany
Ireland
12:11
22.6.2012
Netherlands
Sweden
7:13
23.6.2012
Germany
Finland
9:5
23.6.2012
England
Sweden
16:6
23.6.2012
Netherlands
Ireland
11:7
24.6.2012
Sweden
Ireland
4:12
24.6.2012
England
Germany
13:6
24.6.2012
Netherlands
Finland
3:13
25.6.2012
Germany
Sweden
13:10
25.6.2012
Finland
Ireland
7:8
25.6.2012
England
Netherlands
18:4
Violet
Day
Country
Country
Final result
21.6.2012
Spain
Italy
6:12
21.6.2012
Czech republic
Belgium
27:3
21.6.2012
Scotland
Switzerland
11:3
22.6.2012
Czech republic
Spain
18:2
22.6.2012
Scotland
Italy
8:5
22.6.2012
Switzerland
Belgium
18:4
23.6.2012
Czech republic
Switzerland
16:4
23.6.2012
Italy
Belgium
15:9
23.6.2012
Scotland
Spain
16:2
24.6.2012
Scotland
Belgium
14:0
24.6.2012
Spain/td>
Switzerland
0:13
24.6.2012
Czech republic
Italy
17:5
25.6.2012
Spain
Belgium
9:7
25.6.2012
Switzerland
Italy
11:5
25.6.2012
Czech republic
Scotland
12:13
Green
Day
Country
Country
Final result
21.6.2012
Slovakia
Israel
8:11
21.6.2012
Wales
France
17:0
22.6.2012
Israel
France
13:4
22.6.2012
Norway
Wales
3:12
23.6.2012
Norway
France
11:3
23.6.2012
Wales
Slovakia
12:6
24.6.2012
Norway
Israel
3:11
24.6.2012
Slovakia
France
11:10
25.6.2012
Norway
Slovakia
9:10
25.6.2012
Wales
Israel
12:14
Game results – preliminary
| Day | Country | Country | Final result |
| --- | --- | --- | --- |
| 26.6.2012 | Ireland | Slovakia | 15:3 |
| 26.6.2012 | Sweden | Switzerland | 14:8 |
| 26.6.2012 | Netherlands | Czech republic | 9:8 |
| 26.6.2012 | Finland | Wales | 10:4 |
Game results – group for 13th. – 17th. place
| Day | Country | Country | Final result |
| --- | --- | --- | --- |
| 26.6.2012 | Norway | Italy | 5:6 |
| 26.6.2012 | France | Belgium | 12:13 |
| 27.6.2012 | Belgium | Norway | 6:12 |
| 27.6.2012 | Italy | Spain | 7:5 |
| 28.6.2012 | France | Spain | 11:10 |
| 28.6.2012 | Italy | Belgium | 16:4 |
| 29.6.2012 | Spain | Belgium | 11:3 |
| 29.6.2012 | Norway | France | 18:13 |
| 30.6.2012 | Norway | Spain | 9:3 |
Game results – group for 9th. – 12th. place
| Day | Country | Country | Final result |
| --- | --- | --- | --- |
| 27.6.2012 | Slovakia | Wales | 2:17 |
| 27.6.2012 | Switzerland | Czech republic | 10:11 |
| 28.6.2012 | Switzerland | Slovakia | 10:8 |
| 28.6.2012 | Czech republic | Wales | 15:7 |
| 29.6.2012 | Wales | Switzerland | 8:7 |
| 29.6.2012 | Slovakia | Czech republic | 0:19 |
Game results – quarterfinal
| Day | Country | Country | Final result |
| --- | --- | --- | --- |
| 27.6.2012 | Scotland | Sweden | 11:12 |
| 27.6.2012 | Israel | Netherlands | 3:18 |
| 27.6.2012 | Germany | Ireland | 12:15 |
| 27.6.2012 | England | Finland | 14:5 |
Game results – for 5th. – 8th. place
| Day | Country | Country | Final result |
| --- | --- | --- | --- |
| 28.6.2012 | Finland | Germany | 9:14 |
| 28.6.2012 | Scotland | Israel | 19:6 |
Game results – semifinal
| Day | Country | Country | Final result |
| --- | --- | --- | --- |
| 29.6.2012 | England | Netherlands | 14:5 |
| 29.6.2012 | Sweden | Ireland | 8:13 |
Game results – for 5th. place
| Day | Country | Country | Final result |
| --- | --- | --- | --- |
| 29.6.2012 | Germany | Scotland | 19:13 |
Game results – for 7th. place
| Day | Country | Country | Final result |
| --- | --- | --- | --- |
| 29.6.2012 | Finland | Israel | 16:6 |
Game results – for 3rd. place
| Day | Country | Country | Final result |
| --- | --- | --- | --- |
| 30.6.2012 | Netherlands | Sweden | 10:11 |
Game results – final
| Day | Country | Country | Final result |
| --- | --- | --- | --- |
| 30.6.2012 | England | Ireland | 15:5 |
Final standings
| | |
| --- | --- |
| 1. | England |
| 2. | Ireland |
| 3. | Sweden |
| 4. | Netherland |
| 5. | Germany |
| 6. | Scotland |
| 7. | Finland |
| 8. | Israel |
| 9. | Czech republic |
| 10. | Wales |
| 11. | Switzerland |
| 12. | Slovakia |
| 13. | Italy |
| 14. | Norway |
| 15. | Belgium |
| 16. | France |
| 17. | Spain |
National team roster – 2012 European lacrosse championships, Amsterdam, NL
| Foto | Name | Surname | Position | Number | Club | GA | SV | SV% |
| --- | --- | --- | --- | --- | --- | --- | --- | --- |
| | Stanislav | Mráz | Goalie | 72 | Tricksters Lacrosse Team | 21 | 28 | 43% |
| | Nathaniel | Gaspar | Goalie | 41 | Covenant Eagles | 57 | 75 | 43% |
| Foto | Name | Surname | Position | Number | Club | G | A | PT | P |
| --- | --- | --- | --- | --- | --- | --- | --- | --- | --- |
| | Pavol | Dubeň | Defense | 88 | Tricksters Lacrosse Team | 0 | 0 | 0 | 13 |
| | Miroslav | Šamo | Defense | 28 | Tricksters Lacrosse Team | 1 | 1 | 2 | 3 |
| | Adam | Hamšík | Defense/Midfield | 4 | Tricksters Lacrosse Team | 0 | 0 | 0 | 11 |
| | Boris | Stankovič | Defense/Midfield | 19 | Tricksters Lacrosse Team | 0 | 0 | 0 | 1 |
| | Martin | Kramár | Midfield | 23 | Tricksters Lacrosse Team | 7 | 9 | 16 | 12 |
| | Martin | Božek | Midfield | 5 | Tricksters Lacrosse Team | 0 | 0 | 0 | 1 |
| | Lukáš | Ďurža | Midfield | 32 | Bats Bratislava | 0 | 0 | 0 | 1 |
| | Jaroslav | Gregor | Midfield | 44 | Tricksters Lacrosse Team | 1 | 1 | 2 | 1 |
| | Boris | Severský | Midfield | 13 | Tricksters Lacrosse Team | 1 | 2 | 3 | 9 |
| | Jozef | Tomenga | Midfield | 15 | Tricksters Lacrosse Team | 1 | 1 | 2 | 3 |
| | Noah | Hoselton | Midfield | 27 | Knights Bantam | 4 | 1 | 5 | 5 |
| | Ivan | Černák | Midfield | 26 | Tricksters Lacrosse Team | 11 | 2 | 13 | 4 |
| | Jakub | Klimo | Midfield | 12 | Tricksters Lacrosse Team | 0 | 0 | 0 | 1 |
| | Juraj | Kováčik | Attack | 24 | Tricksters Lacrosse Team | 0 | 0 | 0 | 3 |
| | Tomas | Lichtner | Attack | 21 | Tricksters Lacrosse Team | 9 | 1 | 10 | 5 |
| | Bradley | Vrecko | Attack | 77 | Vancouver Burrards | 12 | 2 | 14 | 3 |
Staff